All that's well and good, but what if I told you that Las Vegas is one of the best places for outdoors enthusiasts in the country? And I'm not talking about ATVs or dune buggies or Jet Skis, though of course you can do all that crazy stuff too. I'm talking hiking, climbing, cycling, horseback riding, kayaking, skiing (in REAL snow!). I'm talking four seasons' worth of outdoor activities — most of them doable damn near year-round.
If you're wondering if people really come here for more than just $22 vodka Red Bulls and strippers, the answer is yes. There is a whole other side to Las Vegas. In a city with its whole seedy underbelly widely exposed, even celebrated, this is the Las Vegas underworld. And most of it is just 20 to 30 minutes from the Strip. So put down the poker chips. Get outside.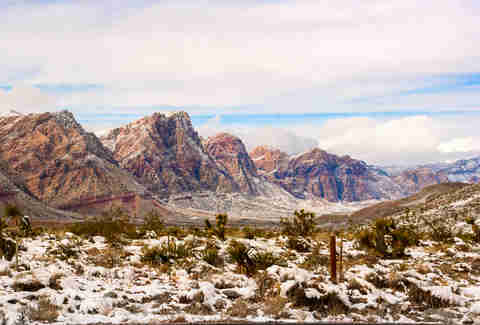 Red Rock Canyon National Conservation Area
Drive time from the Las Vegas Strip: 20 minutes
Just 20 minuted away is a red-hued canyon that looks like an alien landscape and offers legit world-class climbing and bouldering, as well as endless opportunities for hiking, scrambling, peak bagging, canyoneering, cycling, mountain biking, and horseback riding. Yet the overwhelming majority of tourists to Red Rock choose just to drive the 13-mile loop-around, stopping to take pictures at the pull-outs. You can also hike one of the easy Calico trails (which, while good even for beginners, do offer some spectacular views). But for hardcore outdoors enthusiasts looking to do some more serious stuff, there is a huge community of hikers, climbers, and canyoneers you can connect with while you're here (start with VegasHikers and Hiking Las Vegas on Meetup).