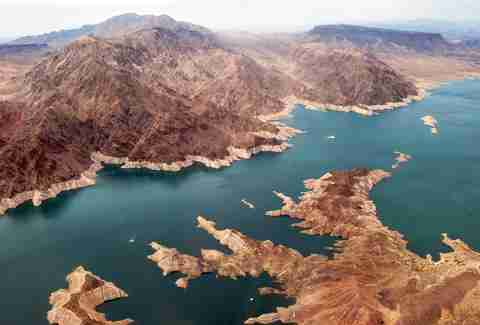 Lake Mead National Recreation Area
Drive time from Las Vegas Strip: 30-45 minutes
Straddling Nevada and Arizona, the Lake Mead National Recreation Area is America's most diverse — and deadliest! — national park, spreading out over 1.5 million acres. Hikers and canyoneers can explore the incredible canyons like nothing you'll find elsewhere in this corner of the world. In addition to the lake, the Colorado River also runs through this park, carving out the scenic Black Canyon and passing under the Hoover Dam. If you decide to explore the river by kayak or raft, don't miss the stunning Emerald Cave, just two miles upstream from the put-in at Willow Beach. The Arizona Hot Springs are also a short hike through a scenic canyon that takes you through several hot pools and ends at a beautiful spot on the Colorado River, where you can also choose to camp out for the night. There are also several mountain-biking trails in the area, for those who prefer life on two wheels.