Valley of Fire State Park
Drive time from Las Vegas Strip: 1 hour 10 minutes
Located in Overton, Nevada, Valley of Fire is one of the most stunning geological phenomena you'll see (at least this side of Utah). There are several short trail hikes that are great for beginners, though adrenaline junkies will need to look elsewhere — this place is more about taking in the bright-red Aztec sandstone, gray and tan limestone formations, petrified trees, petroglyphs, and short, accessible slot canyons than it is about peaks or 600ft vertical walls.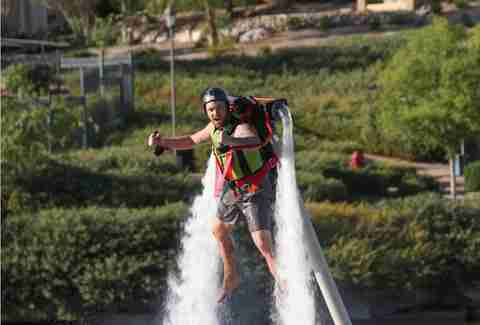 Lake Las Vegas
Drive time from Las Vegas Strip: 30 minutes
OK, so this is a lake made strictly for the purposes of building up a luxury housing and resort community that has a whole ersatz Mediterranean vibe. BUT, you can have some serious fun here kayaking, stand-up paddleboarding, and flyboarding — perhaps in a Superman costume? Which they totally have available for you to wear, because this is Vegas.